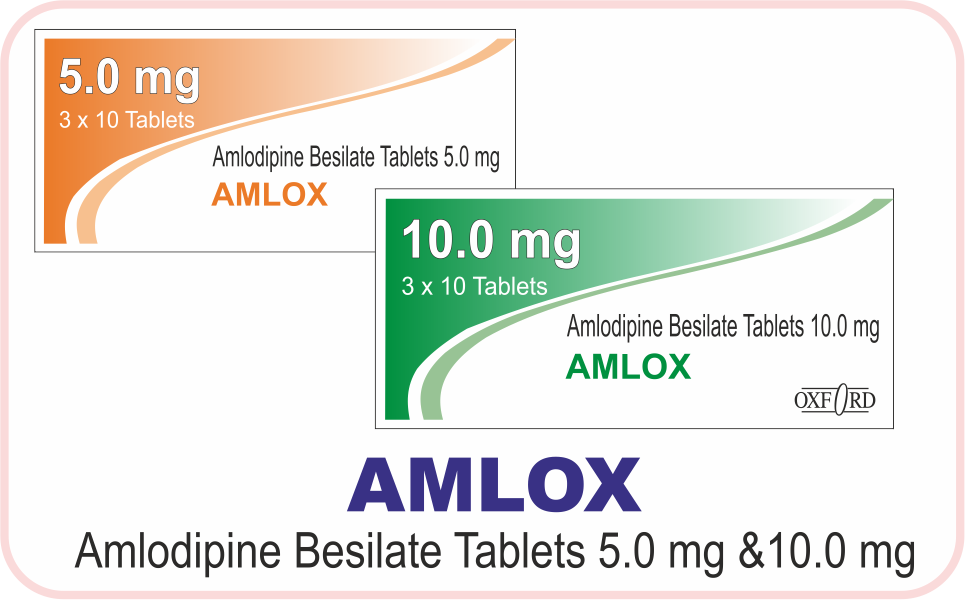 AMLOX
Composition:
Amlox 5 mg:
Each uncoated tablet contains: Amlodipine Besilate BP eqv. to Amlodipine 5 mg.
Amlox 10 mg:
Each uncoated tablet contains: Amlodipine Besilate BP eqv. to Amlodipine 10 mg.
Pharmacotherapeutic group:
Calcium channel blockers, selective calcium channel blockers with mainly vascular effects
ATC Code: C08CA01
Pharmaceutical form:
Uncoated tablet
Amlox 5 mg tablets: Light Orange coloured round flat uncoated tablets having breakline on one side and plain on the other side.
Amlox 10 mg tablets: White coloured round flat uncoated tablets having breakline on one side and plain on the other side.
Therapeutic Indications:
Hypertension,
Chronic stable angina
Vasospastic angina
Also indicated for use in hypertensive or anginal patients who also have congestive heart failure due to systolic dysfunction.
Pharmacological Properties:
Pharmacodynamics
Amlodipine is a dihydropyridine calcium antagonist (calcium ion antagonist or slow-channel blocker) that inhibits the transmembrane influx of calcium ions into vascular smooth muscle and cardiac muscle.
Amlodipine inhibits calcium ion influx across cell membranes selectively, with a greater effect on vascular smooth muscle cells than on cardiac muscle cells.
Amlodipine is a peripheral arterial vasodilator that acts directly on vascular smooth muscle to cause a reduction in peripheral vascular resistance and reduction in blood pressure.
Pharmacokinetics:
Absorption
After oral administration of therapeutic doses, amlodipine is well absorbed with peak blood levels between 6-12 hours postdose. Absolute bioavailability has been estimated to be between 64 and 80%. The volume of distribution is approximately 21 L/kg. In vitro studies have shown that approximately 97.5% of circulating amlodipine is bound to plasma proteins.
Absorption of amlodipine is unaffected by consumption of food.
Biotransformation/Elimination
Amlodipine is extensively (about 90%) converted to inactive metabolites via hepatic metabolism with 10% of the parent compound and 60% of the metabolites excreted in the urine. Ex vivo studies have shown that approximately 93% of the circulating drug is bound to plasma proteins in hypertensive patients. Elimination from the plasma is biphasic with a terminal elimination half-life of about 30 to 50 hours. Steady-state plasma levels of amlodipine are reached after 7 to 8 days of consecutive daily dosing.
Dosage and Administration:
Adults
The usual initial antihypertensive oral dose of Amlodipine besylate tablets is 5 mg once daily with a maximum dose of 10 mg once daily. Small, fragile, or elderly patients, or patients with hepatic insufficiency may be started on 2.5 mg once daily and this dose may be used when adding Amlodipine besylate tablets to other antihypertensive therapy.
Adjust dosage according to each patient's need. In general, titration should proceed over 7 to 14 days so that the physician can fully assess the patient's response to each dose level.
The recommended dose for chronic stable or vasospastic angina is 5–10 mg, with the lower dose suggested in the elderly and in patients with hepatic insufficiency. Most patients will require 10 mg for adequate effect.
The recommended dose range for patients with coronary artery disease is 5–10 mg once daily. In clinical studies, the majority of patients required 10 mg.
Children
The effective antihypertensive oral dose in pediatric patients ages 6–17 years is 2.5 mg to 5 mg once daily. Doses in excess of 5 mg daily have not been studied in pediatric patients.
Contraindications:
Amlox is contra-indicated in patients with:
Severe hypotension
Shock
Hypersensitivity to dihydropyridine derivatives, amlodipine or any of the excipients.
Heart failure after acute myocardial infarction (during the first 28 days)
Obstruction of the outflow-tract of the left ventricle (e.g. high grade aortic stenosis)
Instable angina pectoris
Special warnings and special precautions for use
Amlox is contra-indicated in patients with:
Severe hypotension
Shock
Hypersensitivity to dihydropyridine derivatives, amlodipine or any of the excipients.
Heart failure after acute myocardial infarction (during the first 28 days)
Obstruction of the outflow-tract of the left ventricle (e.g. high grade aortic stenosis)
Instable angina pectoris
Adverse Effects:
Summary of the safety profile
The most commonly reported adverse reactions during treatment are somnolence, dizziness, headache, palpitations, flushing, abdominal pain, nausea, ankle swelling, oedema and fatigue.
Tabulated list of adverse reactions
The following adverse reactions have been observed and reported during treatment with amlodipine with the following frequencies: Very common (≥1/10); common (≥1/100 to <1/10); uncommon (≥1/1,000 to ≤1/100); rare (≥1/10,000 to ≤1/1,000); very rare (≤1/10,000).
Within each frequency grouping, adverse reactions are presented in order of decreasing seriousness.
System organ class
Frequency
Adverse reactions
Blood and lymphatic system disorders
Very rare
Leukocytopenia, thrombocytopenia
Immune system disorders
Very rare
Allergic reactions
Metabolism and nutrition disorders
Very rare
Hyperglycaemia
Psychiatric disorders
Uncommon
Insomnia, mood changes (including anxiety), depression
Rare
Confusion
Nervous system disorders
Common
Somnolence, dizziness, headache (especially at the beginning of the treatment)
Uncommon
Tremor, dysgeusia, syncope, hypoesthesia, paresthesia
Very rare
Hypertonia,

peripheral neuropathy

Eye disorders
Uncommon
Visual disturbance (including diplopia)
Ear and labyrinth disorders
Uncommon
Tinnitus
Cardiac disorders
Common
Palpitations
Very rare
Myocardial infarction, arrhythmia (including bradycardia, ventricular tachycardia and atrial fibrillation)
Vascular disorders
Common
Flushing
Uncommon
Hypotension
Very rare
Vasculitis
Respiratory, thoracic and mediastinal disorders
Uncommon
Dyspnoea, rhinitis
Very rare
Cough
Gastrointestinal disorders
Common
Abdominal pain, nausea
Uncommon
Vomiting, dyspepsia, altered bowel habits (including diarrohea and constipation), dry mouth
Very rare
Pancreatitis, gastritis, gingival hyperplasia
Hepatobiliary disorders
Very rare
Hepatitis, jaundice, hepatic enzymes increased
Skin and subcutaneous tissue disorders
Uncommon
Alopecia, purpura, skin discolouration, hyperhidrosis, pruritus, rash, exanthema
Very rare
Angioedema, erythema multiforme, urticaria, exfoliative dermatitis, Stevens-Johnson syndrome, Quincke oedema, photosensitivity
Musculoskeletal and connective tissue disorders
Common
Ankle swelling
Uncommon
Arthralgia, myalgia, muscle cramps, back pain
Renal and urinary disorders
Uncommon
Micturition disorder, nocturia, increased urinary frequency
Reproductive system and breast disorders
Uncommon
Impotence, gynecomastia
General disorders and administration site conditions
Common
Oedema, fatigue
Uncommon
Chest pain, asthenia, pain, malaise
Investigations
Uncommon
Weight increase, weight decrease
Fertility, Pregnancy and lactation
Fertility
Reversible biochemical changes in the head of spermatozoa have been reported in some patients treated by calcium channel blockers. Clinical data are insufficient regarding the potential effect of amlodipine on fertility. In one rat study, adverse effects were found on male fertility.
Pregnancy
The safety of amlodipine in human pregnancy has not been established.
In animal studies, reproductive toxicity was observed at high doses (see section 5.3).
Use in pregnancy is only recommended when there is no safer alternative and when the disease itself carries greater risk for the mother and foetus.
Breast-feeding
It is not known whether amlodipine is excreted in breast milk. A decision on whether to continue/discontinue breast-feeding or to continue/discontinue therapy with amlodipine should be made taking into account the benefit of breast-feeding to the child and the benefit of amlodipine therapy to the mother.
Drug Interactions
Effects of other medicinal products on amlodipine
CYP3A4 inhibitors: Concomitant use of amlodipine with strong or moderate CYP3A4 inhibitors (protease inhibitors, azole antifungals, macrolides like erythromycin or clarithromycin, verapamil or diltiazem) may give rise to significant increase in amlodipine exposure. The clinical translation of these PK variations may be more pronounced in the elderly. Clinical monitoring and dose adjustment may thus be required.
CYP3A4 inducers: There is no data available regarding the effect of CYP3A4 inducers on amlodipine. The concomitant use of CYP3A4 inducers (e.g., rifampicin, hypericum perforatum) may give a lower plasma concentration of amlodipine. Amlodipine should be used with caution together with CYP3A4 inducers.
Administration of amlodipine with grapefruit or grapefruit juice is not recommended as bioavailability may be increased in some patients resulting in increased blood pressure lowering effects.
Dantrolene (infusion): In animals, lethal ventricular fibrillation and cardiovascular collapse are observed in association with hyperkalemia after administration of verapamil and intravenous dantrolene. Due to risk of hyperkalemia, it is recommended that the co-administration of calcium channel blockers such as amlodipine be avoided in patients susceptible to malignant hyperthermia and in the management of malignant hyperthermia.
Effects of amlodipine on other medicinal products
The blood pressure lowering effects of amlodipine adds to the blood pressure-lowering effects of other medicinal products with antihypertensive properties.
In clinical interaction studies, amlodipine did not affect the pharmacokinetics of atorvastatin, digoxin, warfarin or cyclosporin.
Overdose
In humans experience with intentional overdose is limited.
Symptoms:
Available data suggest that gross overdosage could result in excessive peripheral vasodilatation and possibly reflex tachycardia. Marked and probably prolonged systemic hypotension up to and including shock with fatal outcome have been reported.
Treatment:
Clinically significant hypotension due to amlodipine overdosage calls for active cardiovascular support including frequent monitoring of cardiac and respiratory function, elevation of extremities and attention to circulating fluid volume and urine output.
A vasoconstrictor may be helpful in restoring vascular tone and blood pressure, provided that there is no contraindication to its use. Intravenous calcium gluconate may be beneficial in reversing the effects of calcium channel blockade.
Gastric lavage may be worthwhile in some cases. In healthy volunteers the use of charcoal up to 2 hours after administration of amlodipine 10 mg has been shown to reduce the absorption rate of amlodipine.
Since amlodipine is highly protein-bound, dialysis is not likely to be of benefit.
Presentation
3 x 10 tablets blister strip in a carton with a pack insert.
Storage:
Keep at temperature below 25°С. Keep away from children.
Shelf life
3 years
Manufactured by
Oxford Laboratories Pvt. Ltd.
B-306, Crystal Plaza, New Link Road,
Andheri (West), Mumbai (INDIA).